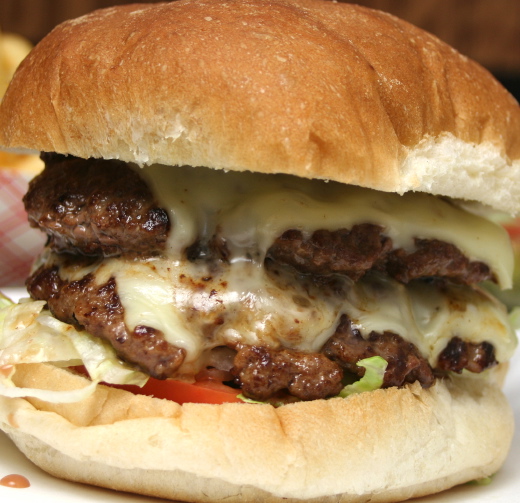 There are as many opinions in the world about hamburgers as there are people who eat them.  No doubt you'll disagree with my own favorite, but that is as it should be.  We are each as unique as the burgers we eat.
My father's secret recipe involves horseradish and red wine.  My friend Gideon's burgers almost always contain some ground pork.  These are both fabulous burgers, and I've eaten quite a few of both.  I've been known to eat a turkey burger and been very happy with it (see Bernal Star, a new spot in my old neighborhood, for my recent favorite of those; their lamb burger was also delicious).  And don't get me started on veggie burgers!  Those really require a post of their own.  As it is summer, at least in some parts of the world, we'll stick with the good old beef burger for now.
Those of you who possess an outdoor grill have a leg up here, but even on your modest home stove (such as in my own kitchen), an excellent burger can be yours.
Gently break 1-1/2 pounds of organic ground chuck (at least 15% fat) down into golf ball-sized chunks. Sprinkle all this meat with 1 1/2 teaspoons of salt and plenty of fresh black pepper, mixing lightly. Gather these small balls into 5 lumps, then carefully shape into broad 3/4″ thick patties, working quickly so the meat stays cool and using a light touch so the meat stays tender. Set aside.
Pre-heat a heavy stainless steel or cast iron skillet over medium-high heat. Add a little olive oil and even a little butter (if you are feeling extra decadent; burgers such as this defy you to think about health, and should be eaten with only pleasure in mind). Sprinkle each patty lightly with salt and sear until deep brown, about 2-3 minutes. Flip over and add thick slices of Cabot Extra Sharp Cheddar. Put a lid on top and let cook until the cheese is melted, a matter of 2-3 minutes. Serve on toasted white buns with plenty of sriracha aioli (made easily with good jarred mayo, plenty of crushed garlic and sriracha to taste; can be thinned with a little pickle juice for extra kick). Sliced white onion, crunchy lettuce of some variety and (if in season) a thick slice of tomato are also nice additions.
Recommended beverage: Boont Amber Ale
Also recommended for the Summer burger:  Potato Salad, Seven Layer Salad, or Blue Cheese Coleslaw.  (recipes to follow)