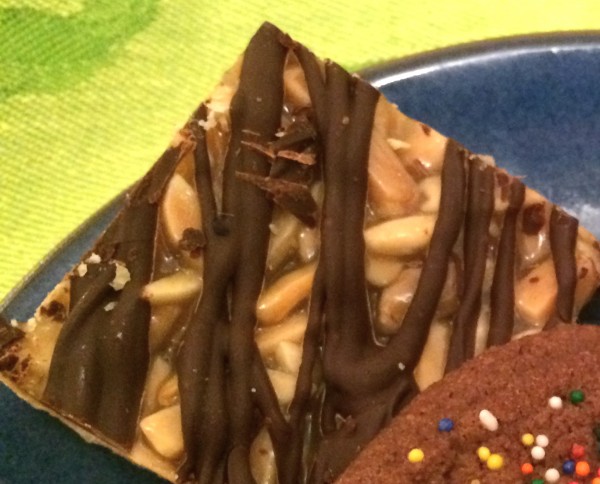 I seem to have failed at my blogging goals for December, but I did manage to bake a round or two of Christmas cookies this year. I have a standard cookie that the holiday would not be complete without, though we've never settled on a name for them. My husband alone can eat half a pan of these and I have a hard time keeping them in reserve to give as gifts.  Although this recipe makes what might seem like a large amount, they disappear quickly in our house, and I usually make a double batch.   Lacking another name, I will call them:
Maggie's Christmas Cookie
For the shortbread crust:
Combine:
12 oz. softened butter
15 Tbsp. sugar
3 tsp. vanilla extract
And then add:
3 c. all-purpose flour
1 tsp. salt
Preheat the oven to 325 degrees, and while it comes to temperature, toast the almonds for the filling (see below).  Once the almonds are finished, turn the oven up to 375 degrees.  Coat an 11″ x17″ jellyroll or "half-sheet" pan with a little non-stick spray or softened butter and then line it with parchment paper.  Press the shortbread evenly to cover the pan, making sure that the dough goes up the sides a bit so you have an edge to contain the topping.  Bake until the shortbread is golden blond bordering on deep gold, about 20 minutes.  If in doubt, bake another few minutes.  The shortbread should be slightly crisp rather than soft.  Rotate the pan halfway through the baking time.
Prepare the filling:
12 oz. slivered almonds
1/2 c. butter
1 1/3 c. brown sugar
1/2 c. heavy cream
5 Tbsp. light corn syrup
3/4 tsp. salt
2 tsp. vanilla
1 1/2 c. of your favorite chocolate, chopped (I like to use bittersweet here)
While the oven is preheating, toast the almonds until fragrant and golden, about 10 minutes.
In a heavy saucepan, combine the butter, brown sugar, heavy cream, corn syrup, and salt.  Bring to a vigorous boil and, stirring constantly, cook for 2 minutes.  Remove it from the heat and stir in the vanilla extract and the toasted almonds.  Pour this over the baked shortbread crust (which can be directly out of the oven; it doesn't need to be cool, though it's okay if it is) and spread evenly to cover.    Let cool completely.
To finish:
Using a double boiler, carefully melt the chopped chocolate.  Working quickly, transfer the chocolate to a piping bag fitted with a small round tip and drizzle the chocolate over the cooled bars.  You can also drizzle the chocolate over the bars using a fork or a wire whisk.