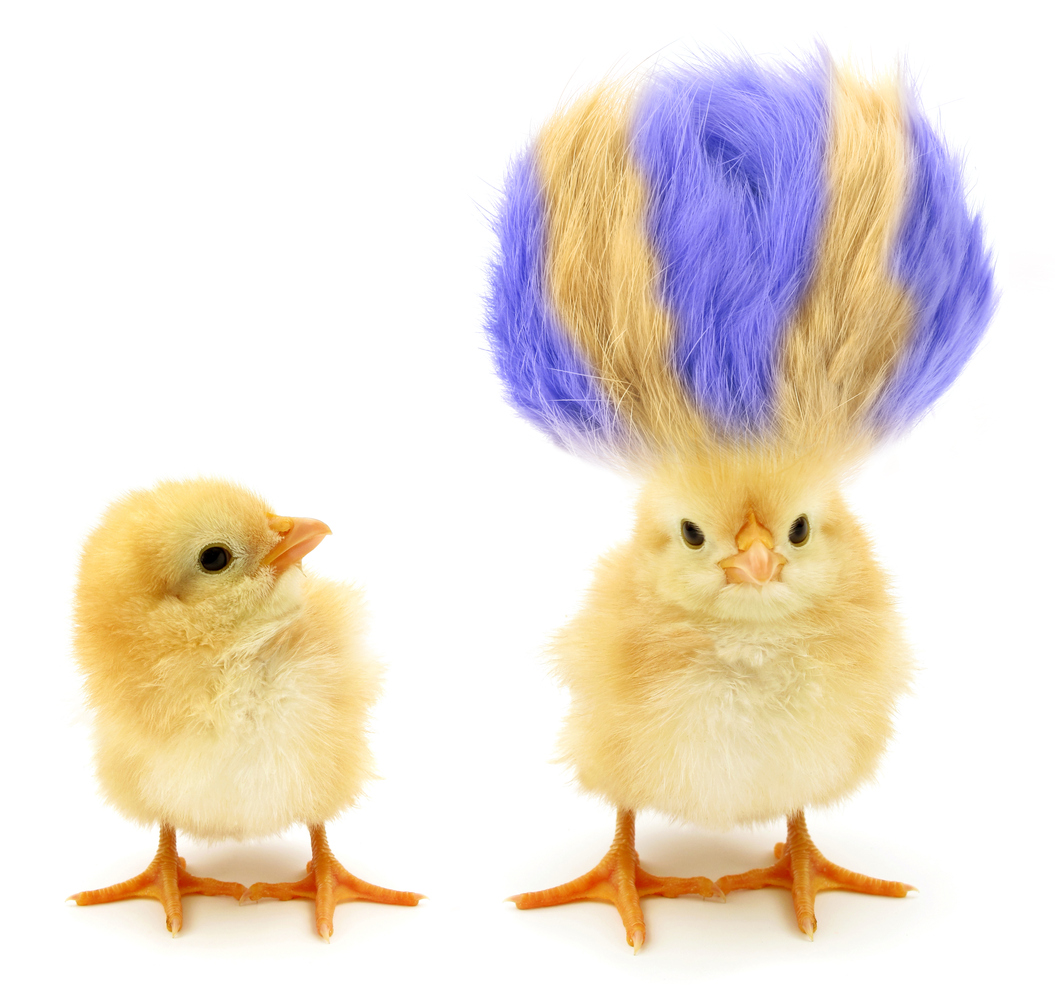 When I was a kid I was always made to dress up for occasions that seemed entirely without cause for any formality, like going shopping downtown or a meal with my grandparents. I resented such efforts vehemently, partially because I didn't understand how a dressed-up Maggie made any difference to the shoppers at Elder-Beerman's or the Miller family members who consumed servings of Christmas salad. Today, I understand the wisdom of adding a little bit of luster, however you can manage it, for the sake of making something special; and so it is, you may not be surprised to hear, with roast chicken. Some clever accessorizing can transform this little black dress of a meal into something really exceptional.
A basic roast chicken is a profoundly delicious and versatile thing on its own. It's just as often our Friday night supper as it is something made for guests. Salting the chicken a few days ahead of time makes a world of difference in the final product, yielding extra-juicy meat and crispy skin (if you let it dry, uncovered, overnight in the fridge). But there can be, if you've found a way to plan ahead, endless variations. Begin by salting the chicken thoroughly inside and out, allowing a scant teaspoon per pound, and then add a marinade, being sure to put some of it in the cavity. Here are a few ideas for the marinade:
Chipotle:  with adobo from the chiles, garlic, olive oil, cumin, a teaspoon each of vinegar and brown sugar, blended into dijon mustard. (If you want a smoky flavor without the heat of the chipotles, substitute smoked paprika for the adobo.)
Masala:  cumin, coriander, cinnamon, turmeric, cardamom, fenugreek (or simply curry powder, if you'd prefer) blended into dijon mustard with fresh ginger and garlic, a little olive oil.
Herb:  rosemary, thyme, sage, oregano, chervil, parsley (whatever you have on hand) blended into—at the risk of sounding repetitive—dijon mustard, with garlic and olive oil; stuff a lemon and a few garlic cloves in the cavity.
"Chicken Lady"—from David Lebovitz. (Use of brick optional; I just spatchcock* and roast it).
It goes without saying that adding some cut-up potatoes—Yukon Gold being my top pick—about 2/3 of the way through cooking time will be the crowning touch on any roast chicken. Estimate how many you think you and others will eat, then add a couple more.
If you've decided you want to pull out all the stops with your next roast chicken and serve one in its proverbial Sunday Best, I suggest the following two options:
 Zuni Roast Chicken: This is a recipe that loves details, and I've linked to a version that doesn't streamline. I can say from experience that these details not only matter but also create a superior product.  None of the effort required is hard; it's just very specific. My only modification is to do more croutons than called for.  This recipe is a classic in San Francisco, home of Zuni Cafe, and a standard when I cook for clients as much as when I entertain. It always impresses.
Suzanne Goin's Mustard-Roasted Chicken with Warm Frisée and Fingerling Salad: I am quite certain that made as written, it will be delicious, but I've made a couple of changes, since Goin is not known for her restraint: 1) use all frisée, doubling the amount called for; 2) there are very few occasions when I will say there is too much bacon, but this is one of them. I only do about 6 oz, and am sure to cook the bacon so that it is still soft, not crunchy; 3) onions are also delicious, if a shallot can not be had. Slice one pole to pole and cook with the bacon instead of adding at the end with the frisée; 4) drain off excess oil before adding the potatoes and then add the whole mixture to the pan used for roasting the chicken, combining it all with the chicken drippings; 5) reduce the vinegar to about a tablespoon and use it to deglaze the bacon/onion pan. Dress the frisée very lightly; you can always add more vinegar to taste when everything has been combined.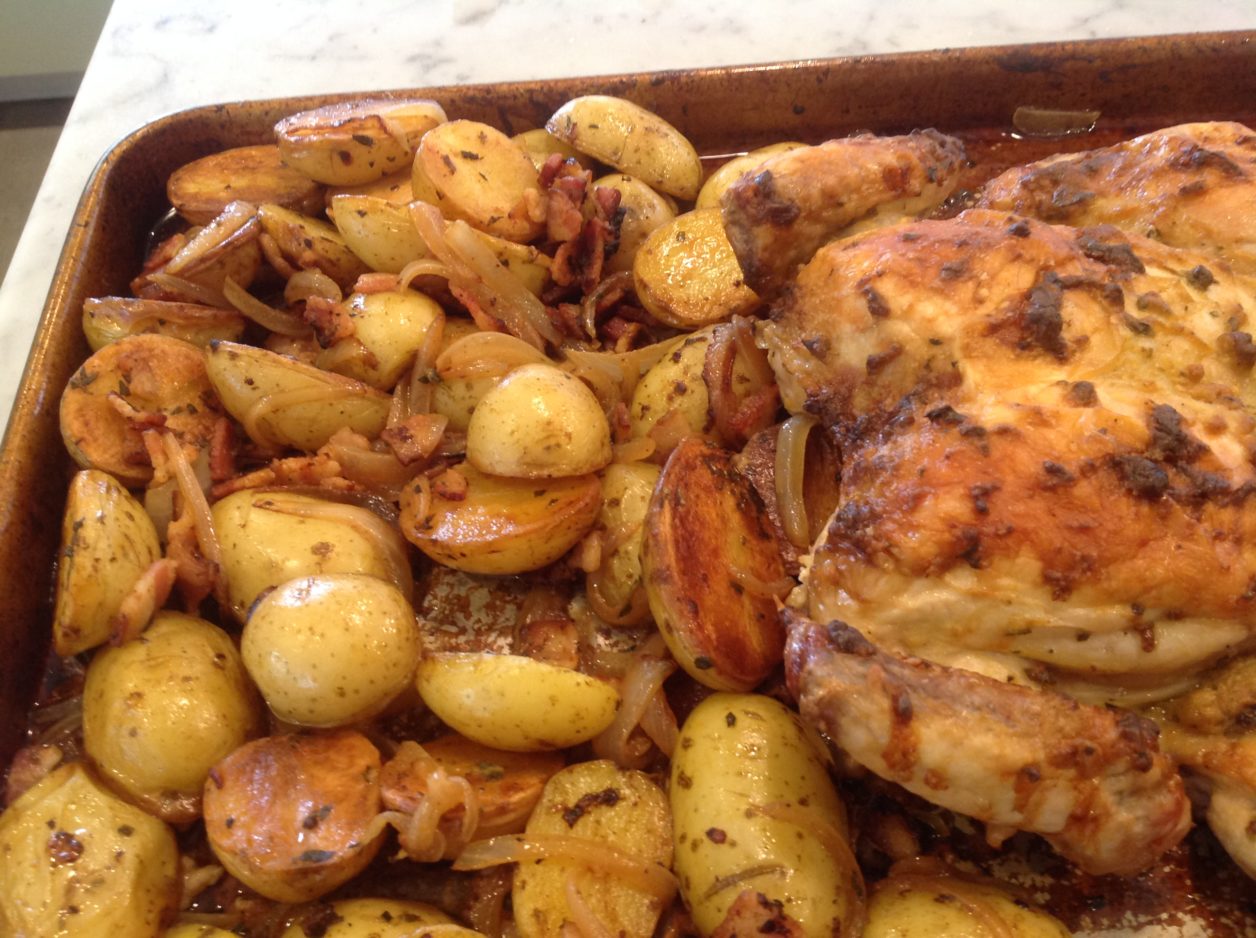 Suzanne Goin's recipe. Potato/bacon/onion mixture added to chicken to soak up all the drippings, before being mixed with frisée.  
Both of these recipes give directions for how to roast a chicken. There are as many different approaches to this task as there are chickens in the world, and if you have a favorite way, I'd encourage you to stick with it.  I generally prefer a shorter, high-temperature (425 degrees) roast, but when a chicken has lots of marinade ingredients on it, it's important to roast at a slower, lower temperature (375 degrees), to prevent burning, since the marinade will cook much more quickly than the chicken.  The size of the chicken additionally affects the cooking time; you can find a basic guide here.  I rarely truss but opt instead for cutting small slits on either side of the back end, near the tail, and then inserting the opposite leg, so the two are crossed.  (Here is a nifty video demonstrating this method.)
However you decide to cook your bird, it's bound to be tasty.  I'm hard-pressed to choose a favorite recipe, and typically decide my approach based on what's in the fridge and how much time and energy I have.  The benefit of the two Sunday Best recipes is that they create a complete meal, but any of the other options can be finished with a simple arugula salad or some sliced summer tomatoes — especially delicious if your own approach to roasting a chicken is to grill it.
*Spatchcocking the chicken can cut the cooking time substantially, particularly in the summer months when it's less appealing to warm up the house with the oven.  Salt the chicken before marinating and proceed as usual.  It's worth noting that a whole chicken yields better-tasting, more generous drippings. Weigh the benefits of expediency or drippings, and choose according to your needs; both will yield delicious chicken.