Food is inherently tied to family, community, and friends.  Though we eat for essential nourishment, we also eat for pleasure, to connect with others, and to celebrate life's milestones and rituals, both large and small.
When I cook for you, I make what you want to eat.  We'll discuss your needs and determine what works for your schedule:  full dinners cooked fresh daily, a stocked fridge and freezer for the week, or something in between.  Then we'll discuss your family's tastes and preferences.
The food I cook will be prepared exclusively for your family, from organic whole foods and all from scratch.
From there we can collaborate on menus, or you can hand all the planning over to me, and I'll make meals within your guidelines.
In all cases, any dietary restrictions are easily accommodated and I am happy to modify any recipe as needed.
Below is just a small sample of dinners that could be on your table tonight:

Burrata, Heirloom Tomatoes and Balsamic Vinegar
Grilled Skirt Steak with Salsa Verde
Arugula and Sweet Corn Salad with Fresh Herbs
Summer Fruit Cobbler with Raspberry Coulis
                            ♦
Fresh Spring Rolls with Mint, Cilantro and Spicy Peanut Sauce
Thai Curry of Kaffir Lime, Lemongrass and Shrimp
Tangy Mango-Cucumber Salad
                            ♦
Baby Lettuces with Beets, Orange and Hazelnuts
Smoked Paprika, Thyme and Garlic-Roasted Chicken
Crispy Potatoes with Aioli and Romesco Sauce
Sauteed Greens with Pine Nuts
                            ♦
Carrot and Fennel Soup
Herb-Crusted Roast Beef with Red Wine Sauce
Cauliflower Gratin with Gruyere and Thyme
Bittersweet Chocolate Pudding with Sea Salt
                            ♦
Shaved Asparagus Salad with Meyer Lemon Dressing
Herb and Chevre Stuffed Chicken Breasts
Spring Pea Puree and Sorrel Beurre Blanc
                            ♦
Curried Chickpeas with Tomatoes, Cilantro and Ginger
Spiced Potatoes in Creamy Spinach Sauce
Fresh-Baked Garlic Naan
Raita and Cilantro-Mint Chutney
                            ♦
Spaghetti all'Amatriciana
Fennel-Crusted Pan Seared Pork Chops
Caesar Salad with Shaved Parmigiano- Reggiano and Garlic Croutons
Homemade Rosemary Focaccia

What's better than a delicious dinner and a clean kitchen at the end of the day? A stocked fridge for tomorrow — foods for breakfast and lunch, all ready to go whenever you need it!
Here's a small sample of what could be waiting in your fridge when you start the day: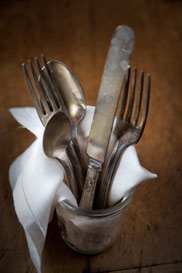 Healthy and convenient items for breakfast: muffins of all kinds, breakfast burritos, granola bars, quiche or frittata
Salads of many varieties: fresh green salads or prepared salads of kale, quinoa, beans, grains or roasted veggies
Soups and stews: chicken noodle, tomato basil, white bean chili to name just a few
Ready-to-go foods for lunches: calzones, empanadas, veggie burgers, meatloaf for sandwiches
Easy-to-reheat casseroles for your convenience: lasagna, shepherd's pie, chicken potpies
Assorted baked goods: healthy or indulgent muffins, cookies, quick breads and cupcakes for everyday treats
When you want to celebrate: Croquembouche, Bittersweet Chocolate Mousse, Lemon Meringue Tart, Double-Stuffed Eclairs (to name just a few options) and any variety of Birthday/Special Occasion Cakes
I am also happy to prepare formal dinners for up to 10 guests when you choose to entertain.

Pricing varies depending on your needs.  Please contact me for more information about my fees.