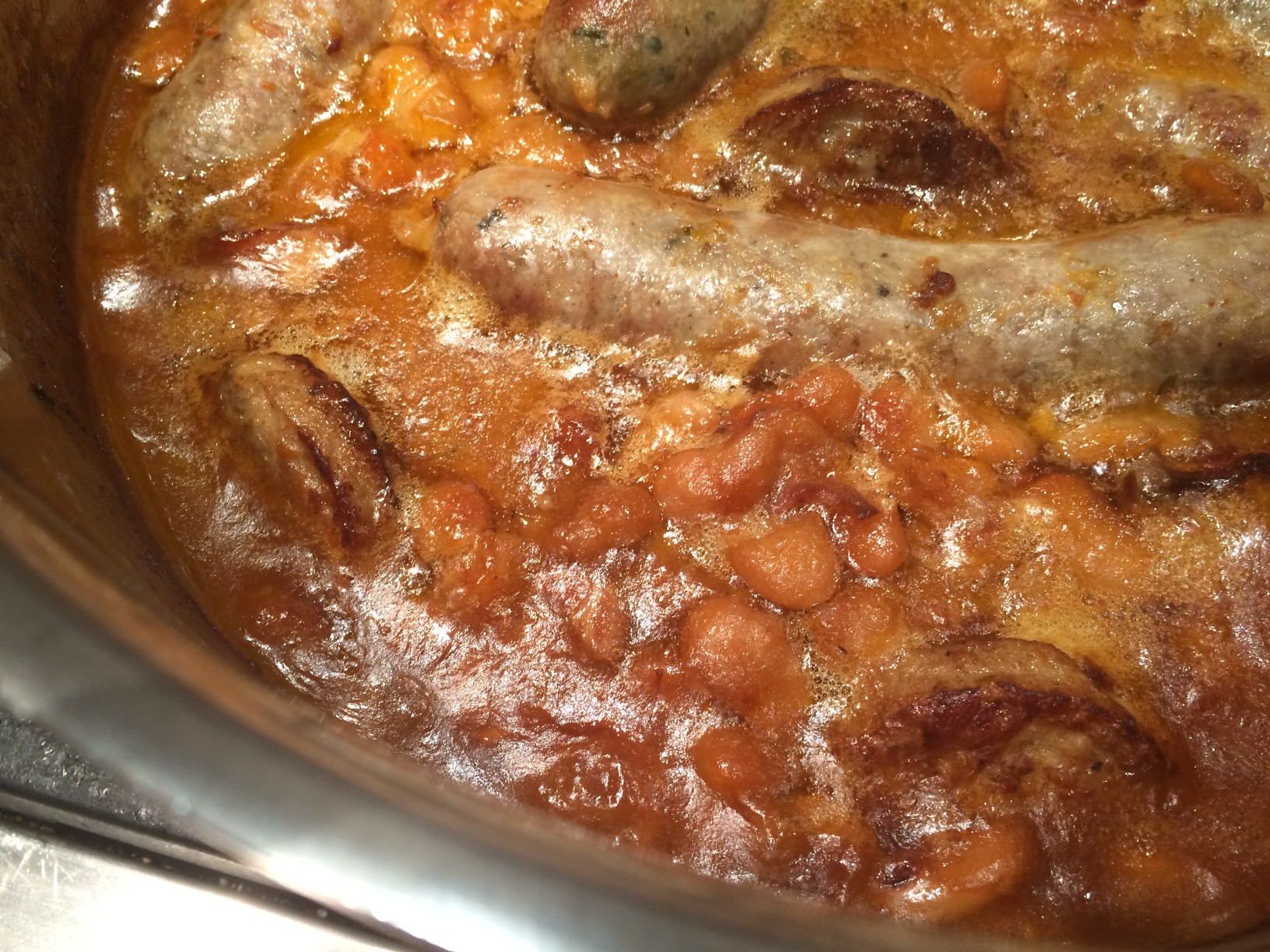 Don't let anybody tell you otherwise: cassoulet is merely another version of what we in America call baked beans.  And like baked beans, cassoulet is a humble dish at heart:  beans simmered and then baked with odd bits of pork, maybe a piece of mutton, likely some duck.  A few sausages never hurt anything.  Don't let the duck dissuade you, nor the mutton—both ingredients depend on the region of France where you're eating your cassoulet or, in my case, on the tastes of the cook.
When I set out to make cassoulet for the first time I wanted to stick with the original spirit of the dish, so I based my version on a recipe of Paula Wolfert's.  Her classic book The Cooking of Southwest France has a five-page introduction to Cassoulet and includes four widely varying versions of the dish—so it's evident there is not one true cassoulet.  I opted for  her Cassoulet de Toulouse because it most closely resembled the dish I have eaten.  It also includes some ingredients uncommon to American cooks, like pig skin, pig's foot, pancetta, fat back, and duck confit.   Before you get too trepidatious, consider the following:
Pig skin is there for it's rich, gamey flavor, and for the layering and lining of the ingredients in the final preparation. I left it out, and neither layered nor lined; this composition did not strike me as essential to the dish, though I am sure Wolfert would feel otherwise.  If you feel strongly about including it, ask your butcher a day or two before you plan to begin to trim the skin off pork belly and save it for you to use. (Wolfert's instructions for using it are here, in this pared-down version of her original recipe).
A pig's foot provides collagen and porky richness, similar to that of the pig skin. Here in California, I was surprised to discover that pig's feet are not so hard to track down, but I used a fresh pork shank in its place.  For the faint of heart, a ham shank will also be a bit easier to wrestle with than the full "pied du porc."  Avoid using smoked ham shanks, as the smoky flavor will overwhelm the other flavors in the dish.  In the absence of either a pork shank or a pig's foot,  a lamb or veal shank would supply the necessary collagen.
Pancetta is similar to bacon, though it is cured rather than smoked, so its flavor is rich and mild, very porky but not at all sweet.  If only bacon is to be had, simmer it in boiling water for a few minutes to remove the smokiness—or skip this ingredient all together and use a little more salt pork.
Fat back is simply another word for salt pork, which is widely available, often in the freezer section.
A crispy duck leg resting atop the succulent beans is a key part of the dish for me, so I was determined to include it.  And duck confit has a cured, meltingly tender quality that is very different from a that of a freshly seared duck leg (which one could certainly use), and both will supply the requisite crispy skin.  Though making your own duck confit is simple, the final product requires several months' curing time, so I had to opt for plan B:  store-bought duck confit, widely considered a remarkably delicious product and a marvelous substitute for months of home-curing.  Good brands include D'Artagnan and Grimaud Farms.
You'll notice that the list contains not only a great deal of pork, but also a great deal of fat. Do not let this dissuade you.  The fat is necessary to develop the rich, mellow flavor, and most of it will be removed midway through the preparation.
Now to the beans, perhaps the most important element in cassoulet.  I went all out and ordered Tarbais beans from France so as to duplicate the creamy texture of the original dish.  Good substitutes would be the excellent Marcella beans from Rancho Gordo, where you can also purchase "cassoulet" beans, an American-grown version of the original Tarbais bean.  Canellini, flageolet, and Great Northern beans are also good candidates.  The only caution I would give here is to avoid a white bean that is known to finish on the starchy rather than creamy side; the final dish relies heavily on the texture of the bean, so this is important.
The only other element you really need is time.  This is a project best started several days ahead of when you'd like to eat it, making it the perfect project to start on a Friday night, to be eaten as soon as that Sunday and consumed as leftovers for the rest of the week ahead. Again, do not let this element discourage you; the actual work involved in this dish is quite minor, and the results far exceed its humble ingredients.
Cassoulet de Toulouse, American-style
1 pound dried white beans, such as Tarbais, canellini, or flageolet
a few tablespoons of duck fat (removed from the duck confit) or olive oil
1 medium carrot, peeled and chopped
1 medium onion, chopped
1 whole head of garlic (unpeeled), plus a few small cloves of garlic (peeled)
1 fresh pork shank (about 8 oz)
4 oz. salt pork or pork belly, in one piece
4 oz. pancetta, in one piece
1 Tbsp. of tomato paste
about 2 qts. of chicken stock
an herb bouquet made of 2 sprigs parsley, 2 sprigs thyme, 1 bay leaf, and 2 small celery ribs
1 pound of fresh pork sausages (such as bratwurst; avoid anything smoked or strongly flavored, as it will overwhelm the dish)
2-4 confit duck legs, cleaned of excess fat (to be used above)
Day #1:  Cover the beans by at least one inch of cold water and let soak overnight in the fridge.
Day #2:  In a large, heavy pot, sauté the onion and the carrot in the duck fat over medium-high heat until the onion is translucent.  Remove the vegetables from the   pot and then add the pork shank, pancetta, and salt pork (or whatever combination of the above you are using), searing them on all sides.  Remove the meat to a platter and return the vegetables to the pot.  Add the tomato paste to the pot, letting it sear in the oil for a minute, then stir to coat the vegetables.  Add the whole head of garlic, the bouquet garni, and the meats (including the pig skin, if using) to the pot, along with enough chicken stock to just cover everything.
Simmer this for about an hour.  In the meantime, drain the beans of their soaking liquid and put them in a pot, covering with fresh water.  Bring the beans slowly to a boil and add them to the simmering broth.  Cook about two hours, or until the beans are tender.  Remove from heat, let cool, and refrigerate overnight.
Day #3:  Remove as much chilled fat from the beans as you can, reserving a tablespoon or two of it (the rest can be saved for another purpose).  Remove the meats from the pot and shred any bits of it you like, returning that to the beans. Squeeze the garlic cloves from their skins and set aside.
Set the beans and their cooking liquid over low heat.  In a food processor, combine the raw garlic, the cooked garlic, the few tablespoons of reserved fat, and about a 1/2 cup of water.  Puree till smooth and then stir into the beans, bringing to a gentle boil.
Leaving the pot uncovered, place the whole thing in a 300-degree oven and let cook approximately 1 1/2 hours.  Check it every now and then; if it's getting a bit dry—it should be a loose, thick stew—add a little more chicken stock.  It will  form a bronze crust—the telltale mark of a good cassoulet—but don't worry if you end up stirring it into the cassoulet once or twice while adding liquid.  At the 90-minute hour mark, check one last time for dryness and add a bit more stock if necessary.  Sear your sausages in a skillet to brown them up, then add them to the cassoulet.  Let simmer in the oven for another 1/2 hour or so.
When the cassoulet is finished, pull it out of the oven and increase the temperature to 375 degrees.  Put a skillet over high heat and add just a bit of oil to the pan.  When it is smoking, add the duck legs (skin side down), turn the heat to medium-high,and cook without flipping for about 5 minutes.  Once the skin is nice and crispy, flip the duck legs over and place in the oven until warmed through, about 15 minutes.  Place on top of the cassoulet, crispy skin up, and serve.