When June rolls around, I am often filled with a longing for the summers of my youth, spent swimming at the nearby pool, riding my bike, or reading a book.  Today I watch the kids I know, in homes where I work, or those of friends and family, grow healthy and sun kissed and worn out from all the fresh air. I have to admit that, especially in middle age, I feel the occasional jealous pang.
I have a lighter schedule in the summer months—my clients often travel—so I try to revive my old habits, if only in small ways. Now and then, I spend a whole afternoon, sometimes most of a day, reading a novel. City living makes outdoor exercise more challenging, but getting to the gym for workouts I can enjoy—rather than drag myself through, as I do for the rest of the year—is its own pleasure. When I now visit Ohio in the summer, I go with my mom to water aerobics, which is held outdoors (so fantastic!). Nothing compares to plunging into a cold lake or pool on a blistering day, and no smell evokes this experience better than that of a beach towel, left to dry in the sun.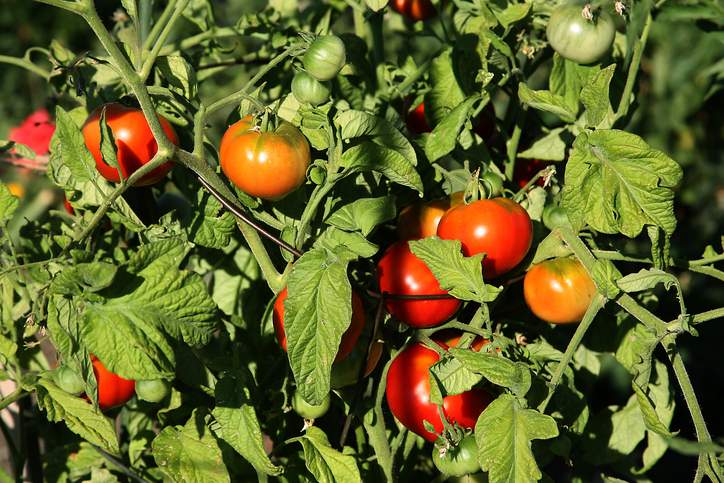 Of course, there were chores in my early summers—yard work, cutting grass – and once August rolled around, I'd help Mom can jar after jar of the tomatoes grown in Dad's garden. The tiny kitchen would be covered in newspaper, overrun with canning supplies, and full of tomatoes. It was my job to operate the Squeezo, a jumbo food mill that separated the skin and seeds from the pulp of the fruit. Ninety-five degree Augusts, without air conditioning, made this a very sweaty task indeed, and I recall pretty much hating every minute of it. But now when I make sauce out of a client's homegrown harvests, the aroma returns me to that humid little kitchen on an equally humid evening. My mom, our tomatoes, and the Squeezo—these are memories I now happily revisit.
All of which leads me to the other pleasure of my current summers: cooking at home for James and me. When I'm in full-on work mode, cooking at home is the very last thing I want to do, though weekends I often manage a soup, roasted chicken (see "Sunday Best" post) or some pasta, the leftovers of which we can eat throughout the week. Come summer, I dedicate myself to eating food I cook as much as possible, an ironic luxury for a working chef. Although eating my own cooking does have the professional advantage of making me a better cook, it has the benefit of nourishing myself rather than someone else, the value of which I've come to truly appreciate.
I should be clear: I'm not making gourmet feasts for us to eat. I'm still making everyday food, just more of it, and for us instead of for a client. This last week alone I made more food than I'd cooked at home in the last month: a big pot of chorizo chili, a beef and mushroom stew, and quinoa patties—my new workhorse of healthy convenience. I know the term "quinoa patties" doesn't necessarily set one's heart racing, but here's why they're my new favorite:
They can be eaten hot or cold, crumbled up in a salad or left whole in a sandwich, or just plain, with your favorite condiment.
They can be made with whatever is in your fridge.
They freeze beautifully.
They are healthy, satisfying, and delicious.
I'll admit that I'm a late convert to quinoa. For years I thought the very idea of it was preposterous. But clients not only liked it but requested it—this is California, after all—and gradually I came around. It cooks quickly, is healthier than rice, and leaves behind an easy-to-clean pot.
And did I mention that quinoa is versatile? Here are just a few flavor combinations worth giving a try:
cooked spinach, sautéed onion, and parmesan
shredded zucchini, dill, scallion, and feta
roasted cauliflower, cheddar, and hot sauce
sautéed mushroom, sautéed chard, and gruyere
black bean, cilantro, cumin, and chipotle
fresh corn, sautéed kale, and Indian spices
roasted sweet potato, red pepper, goat cheese, and smoked paprika
olives, mozzarella and parmesan, tomato paste, and oregano
If you are the sort of person who throws whatever odd bits are in your fridge into some eggs, soup, or pasta, then quinoa patties are for you. If you are the sort of person who likes a project and wants to try something new, then try quinoa patties. If you are generally adverse to quinoa and think of it as Something That Other People Eat . . . then quinoa patties are the way to go. Here's my basic formula:
1 cup of uncooked quinoa, cooked according to package instructions
½ – ¾ c bread crumbs
3-4 eggs
3 cups of assorted add-ins (see above)
salt and pepper to taste
Let the cooked quinoa cool a bit (or make it a day ahead), for easier handling and better mixing. A range is given for the eggs and breadcrumbs, because the cohesiveness of the patty depends in part on your add-ins and the amount of cheese you use.  Start with the smaller amount of each and see how the mixture holds together.  You can do this by squeezing a big handful of it in both hands; if it holds its shape well, you are good to go.
If it feels wet but too loose, add some more breadcrumbs. If dry and too loose, add another egg. I'd say it's better to err on the side of "egginess," so don't be afraid to go that direction, though if you find egg in a puddle in the bottom of the bowl, you've gone a little too far. If this happens, just pour off the excess egg, or add a few more breadcrumbs, and you should be all set. The whole mixture should combine into a cohesive whole.  Shape your mixture into 3-inch patties that are about ¾" thick. You should get about 15 of them.
From here you can cook them in a preheated, lightly greased skillet (non-stick makes easy work of this) until nicely browned on the first side, then flip and cook until the other side is the same. Or you can bake them in a 375-degree oven (on a lightly greased sheet) until firm and nicely browned, flipping halfway through, about 20-25 minutes total.
How you eat them is entirely up to you. These days I prefer them with a quick tomato salad (season it well with salt) and garlicky yogurt (just mince some garlic into plain yogurt, and add a little salt).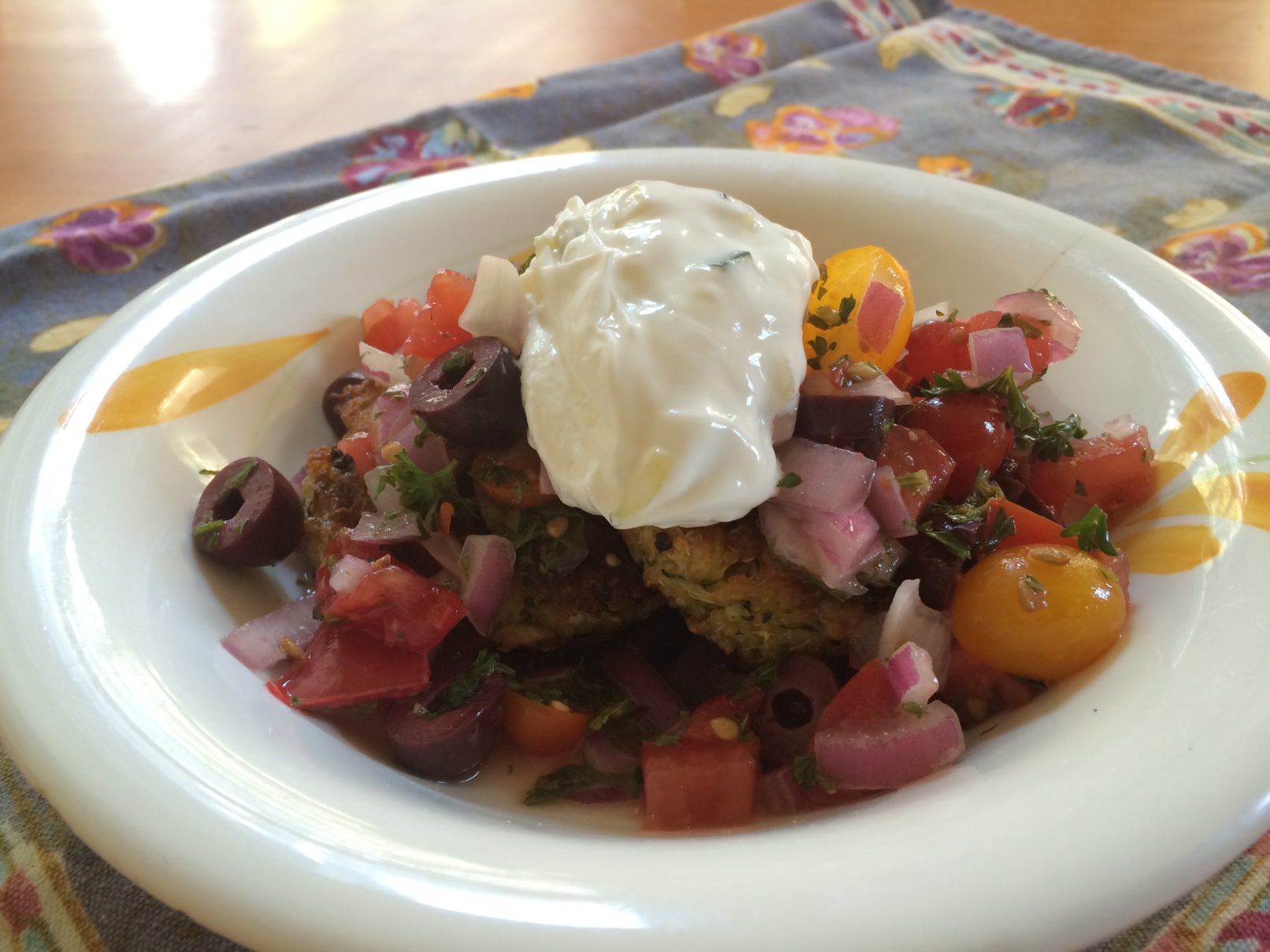 But I don't see anything wrong with coating them in tomato sauce and a slice of mozzarella, then putting it all under the broiler for a few minutes. I've been known to eat for breakfast patties straight up from the fridge or warmed on toast with plenty of melted cheese, a slice of onion, and some ketchup (much the same way I make a meatloaf sandwich). James, preferring a no-fuss approach, just eats them straight with mustard or Ranch dressing.
Happy eating, and Happy Summer!