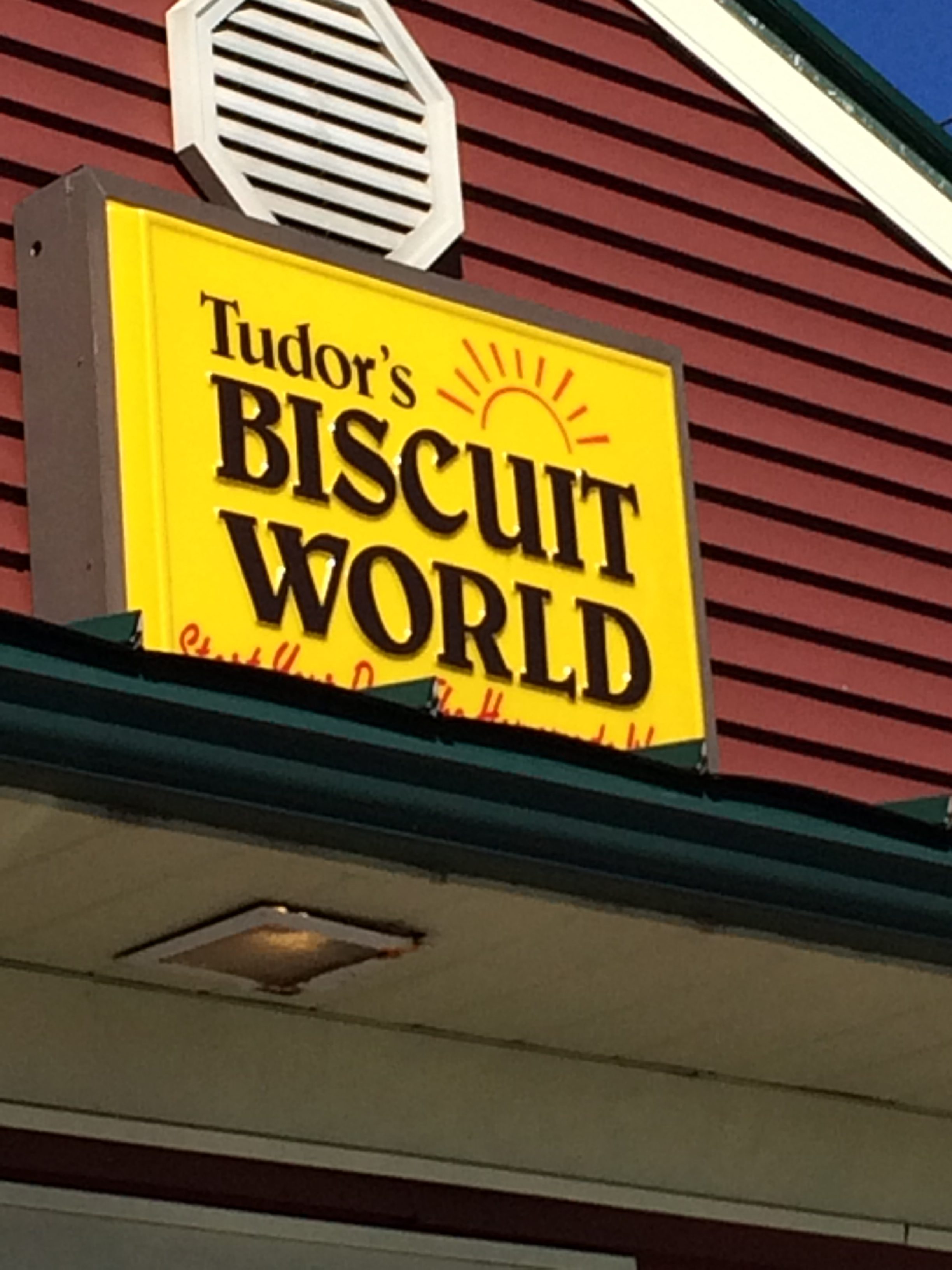 On a recent road trip through West Virginia with my sister Kim, I had a life-changing experience.
This is somewhat hyperbolic but not entirely.   Though I grew up in nearby Ohio, I hadn't given the food of West Virginia even one moment's thought.  But I reflected quite a lot, as we weaved through the increasingly beautiful countryside, on why West Virginia is often overlooked.  I couldn't come up with a satisfactory answer, save the feeling that modest people make modest states.  Not wanting to draw any undue attention to themselves, they've by extension not drawn any attention to their state.  Though they likely have their reasons for preferring in some cases to be left alone, I could likewise see why people here feel forgotten; their world is their own, and as such is quite distinct from the America I inhabit.  What's more, the landscape seems to consist exclusively of the tightly packed Appalachian mountains, creating the impression of many small worlds hidden away; this gave it a private and even mysterious air.  I can't speak much to the people beyond saying that we were repeatedly called "honey" and "sweetheart," and that despite this hospitality I felt us without question to be Yankees.  The only real certainty about West Virginia I have gained is that they make terrific biscuits.
The further we drove into the heart of the state, the more signs we saw for the curiously-named Tudor's Biscuit World.  With time to kill, Kim and I discussed at some length what the origins of this name could be, none of which bears repeating.  Though we'd eaten breakfast shortly before, my sister insisted we stop and get one of their biscuits to share.   We got off the exit for the town of Marmet and rolled up to a Tudor's Biscuit World.  It was an unassuming spot resembling an old-school donut shop or diner.  Stepping up to the counter we were greeted by a long list of choices, including  The Politician (biscuit sandwich with bologna, egg, and cheese),  The Thundering Herd (biscuit with sausage, hash brown patty, egg, and cheese), and The Peppi (biscuit with pepperoni and cheese).  Other choices included The Big Tator (biscuit not included),  Hot Roast Beef sandwich (on Texas toast, biscuit extra), and The Gravy Platter (naturally).   Kim was at the ready despite this daunting list and went straight for the purist's order:  the butter biscuit.  "Honey, do you want jelly with that?" the clerk asked, and this seemed like a good idea.  Within moments we had our warm biscuit, easily 4 inches in diameter, 2 inches high, and sliced horizontally like a hamburger bun, with a generous smear of now-melted butter inside.  It came with two packets of Smucker's strawberry jam.  We bit burger-style into the biscuit—and it was one of the most delicious things I've ever eaten, distinctly crispy-crunchy on the outside, with a soft and tender inside.  The salty butter couldn't have been more perfect.  The next bites I coated with the sweet-tart jam and this only made it even more fantastic.  This was easily the best biscuit I had ever eaten, and it was certainly far, far better than any I've made.
The older I get, the more I respect excellence in cooking.  It's so easy to make good food, and much harder to make really great food.  Making up that difference can be hard to accomplish because excellence relies on perfection and accuracy — qualities that are often elusive.  I've made a lot of adequate biscuits in my life but never any truly exceptional ones.  Like many simple things, they require a certain amount of dedication and study to master, and I have done neither of those things where biscuits are concerned, settling for the merely good enough.  I may no longer be able to make such a deal with the biscuit devil, now that I've eaten a Tudor's Biscuit;  they've set the bar for "good enough" several levels up from where my biscuits currently reside.
On our return trip back through West Virginia, Kim insisted we plan our route and stops to coincide with a biscuit from Tudor's.  She was right to do so, though this meant we had quite a long haul before we could stop for our first meal, and lots of time to anticipate the fabulousness.  On the trek there I mulled over what I would order, and settled on the plainly named Shaved Ham Melt.  Oh, we were excited when we arrived, and decided to eat in.  I was momentarily disarmed when the clerk asked if I wanted a slice of American cheese or the creamier Cheez Whiz style, but what is a melt if not melty? – so I chose the whiz.  Behold the splendor: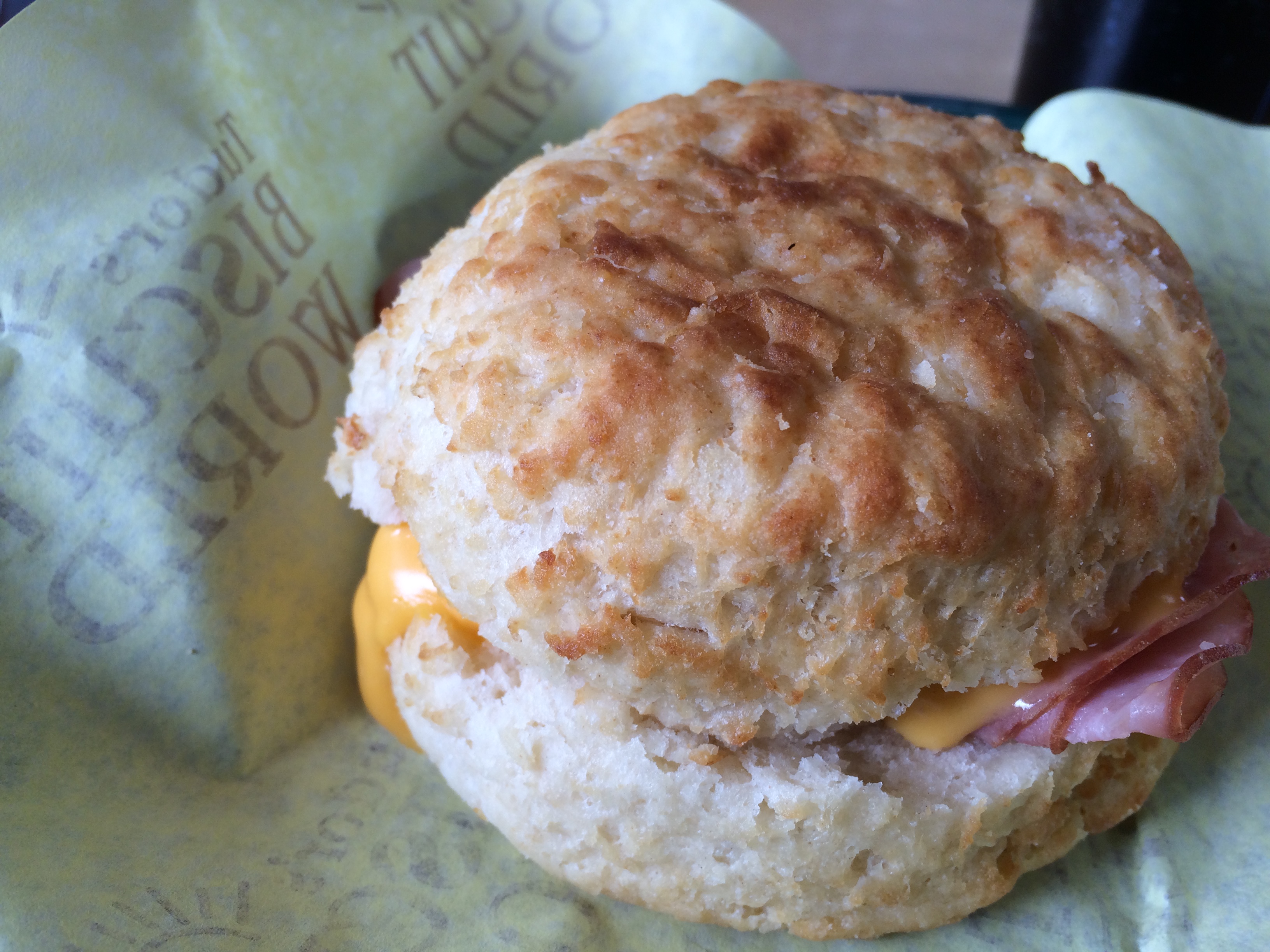 Kim ordered her biscuit with a breaded and fried chicken cutlet and a slice of American cheese (a combination that also lacked a curious moniker).  We were each so satisfied with our own choices that we didn't even really share, though I did try a bite of hers, and it was extraordinary.  But things got even better!  Kim had wisely insisted we get a plain butter biscuit to share for dessert, and because we were eating in, found ourselves with the dilemma of what to put on it:  apple butter, syrup, more jam?  I have to say my choice of syrup was by far the very best way to eat a Tudor's biscuit, better even than the Shaved Ham Melt, though Kim would argue apple butter is the way to go.  I hope you make it to West Virginia someday to decide for yourself.