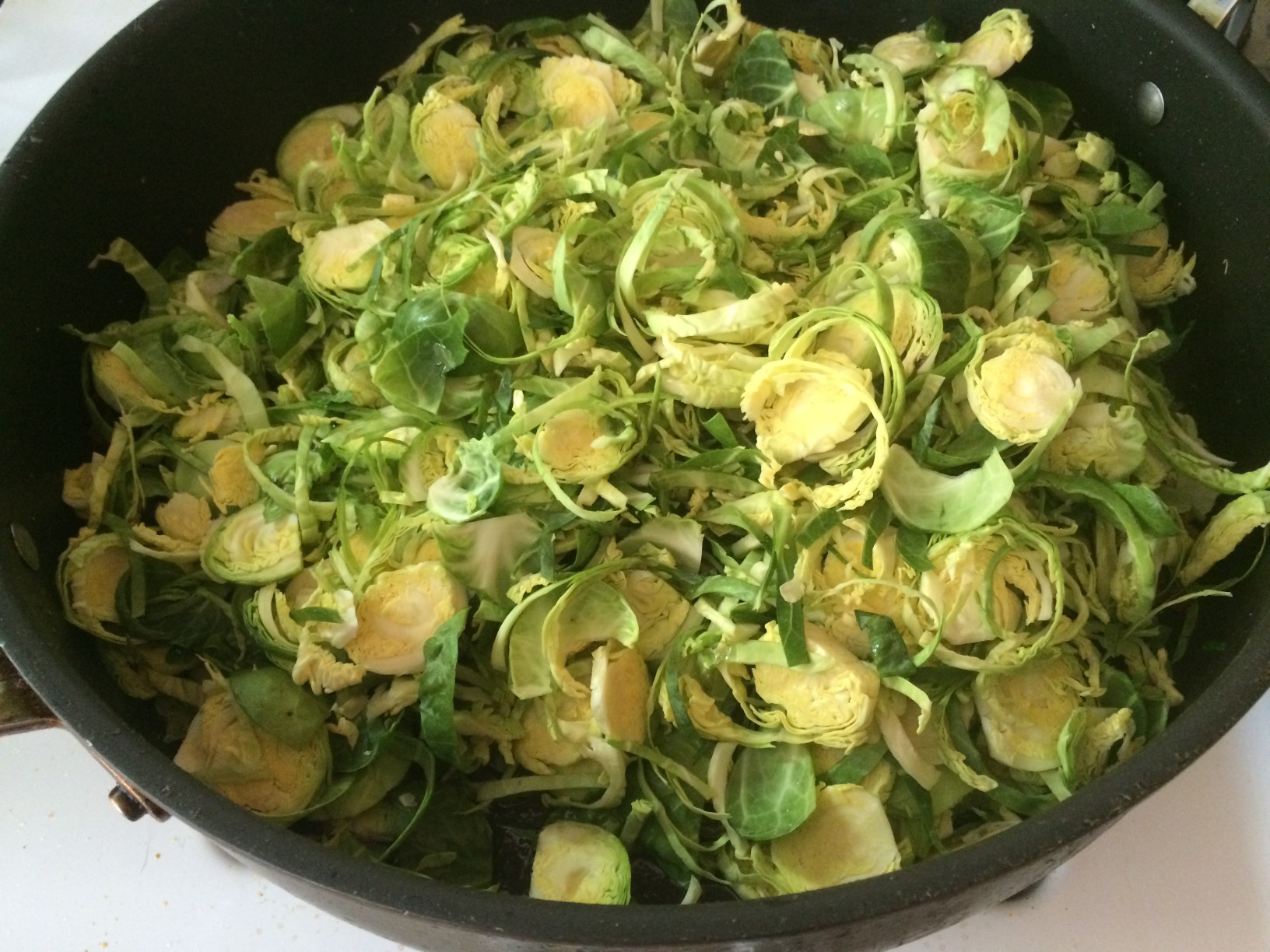 There are those among us who like brussels sprouts, a fact that has confounded me for some time.  I was certain that these hideous vegetables were beyond redemption and put on earth to torture kids who were required to clean their plates.
Eventually I began to regard them with a little less disdain.  Friends ordered them in restaurants or brought them to potlucks, and I always gave them a go.  Roasted brussels sprouts with bacon and blue cheese, fried brussels sprouts "chips," brussels sprouts prepared with a Vietnamese caramel sauce — these dishes were certainly edible, sometimes even tasty.  Because I love cabbage and other brassicas (the genus of such vegetables, and a category that includes cauliflower and broccoli) I decided I just needed to persevere.  Surely I could come to love these on their own merits.
It probably goes without saying that I'm late to the brussels sprouts game.  A quick Google search for recipes using them will bring up nearly 2.5 million results:   shaved thinly and used to make a slaw-like salad; roasted with figs and balsamic vinegar; gratineed with bacon and gruyere.  This modest beast has become something of an everyday vegetable among those who cook (and presumably those who eat); and for the health-crazed, it is perhaps second only to kale in its perceived nutritional supremacy, further catapulting it into the spotlight.
I was determined to become a convert, so I set out to prepare a meal of them for myself.  I settled upon a New York Times recipe that a client had found and requested I make one week.  This dish became standard fare at her house, so I'd tried it with another client and her four picky kids, all of whom cheerfully ate it and promptly requested I make it again the following week.  (One of the kids actually said to me, "I can't stop thinking about it.")  So I set out with confidence, thinking I'd be turning the brussels sprouts corner at last.  My husband James watched me cook with contagious anticipation, making me even more determined.  I set the steaming bowls before us and we dug in.  James almost immediately declared it his favorite pasta dish and went back for seconds.  But I was not so lucky, and chewed away at my food, feeling rather bored and wishing all along that the brussels sprouts were cauliflower.  So, their charm still eludes me, and I remain an unreliable source of opinions where brussels sprouts are concerned.  But don't let me dissuade you.
Penne with Brussels Sprouts, Bacon, and Parmesan (adapted from this NYT recipe)
Put a large pot of water on the stove for the pasta.  While you are waiting for it to boil, cut three (or four, or five — your choice) slices of bacon into small pieces, and put them in a large skillet over medium-low heat. In the meantime, cut the stems off 1 pound of Brussels sprouts, and then slice them as thinly as you can (they needn't be perfect, as evidenced in the above photo).   Once the bacon is crisp, add a clove or two of crushed garlic and – if the bacon has not rendered much fat — a pat of butter to the pan.  Stir 30 seconds to cook the garlic and then add the Brussels sprouts, turning the heat up to high.  Season with salt and lots of black pepper and cook quickly, stirring, until the brussels sprouts turn bright green; add a ladle or two of the pasta water if it might help them along.  By this time the pasta water should be boiling.  Add a few tablespoons of salt and then one pound of penne to the pot.  Cook until just a bit firm and drain, reserving a cup or so of the cooking water.  Toss the brussels sprouts with the pasta, scraping all the flavorful bits out of the skillet, then add about half the pasta water and 1 cup of grated parmiggiano-reggiano.  This should make a creamy sauce, but add a little more pasta water or a little more cheese to get the consistency you want.  Ladle into bowls and garnish with more black pepper and grated cheese.