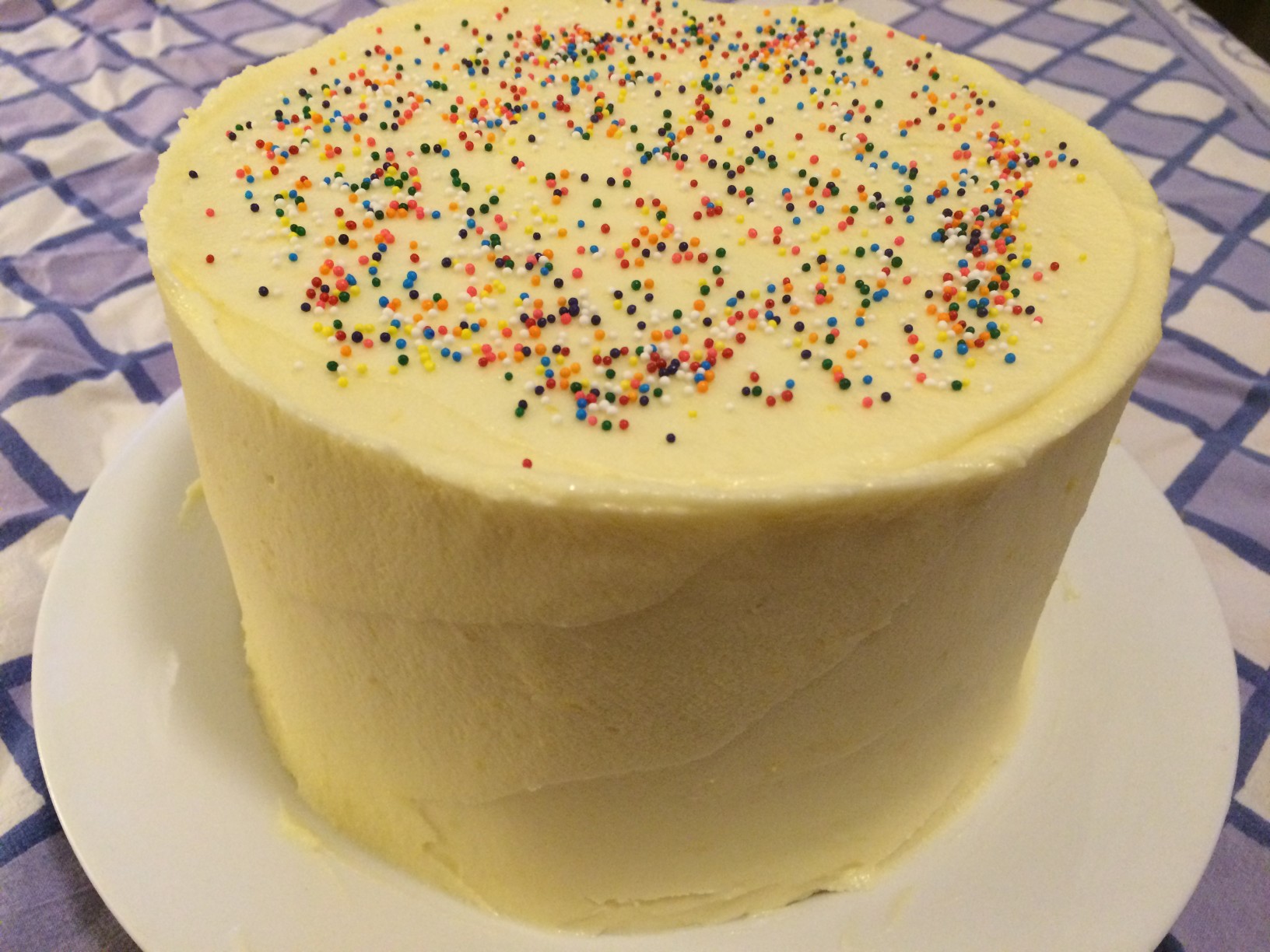 Birthday cakes should be layer cakes, and for the second time in as many years I found myself with cakes prepped, but the birthday gathering cancelled. Nestled in my freezer were three layers of  lemon cake (baked last week; you'd never know they'd been frozen, and this is the secret to wedding cake construction across the land), and waiting in the fridge was a batch of lemon curd. All that remained to do was build this thing and frost it with a simple lemon buttercream.
One of the failings of middle age, as I see it, is that people — including the original birthday recipient of said cake and regrettably, myself — no longer wish to be the recipients of entire desserts. Though my friend had requested a "very small" cake, this particular creation was nonetheless three 6″ layers — not big, but certainly more than anyone I knew would want to receive just for themselves.  What was I going to do with all this cake??  I thought about serving it at a client's house, where 4 hungry kids will gobble it up in one sitting, but then  I wouldn't get my own piece to eat, and I'd been awaiting that since the party planning had begun a month ago.  A very kind friend, understanding my predicament, suggested I make it for myself (and my husband, though a piece or two could go to the original birthday girl) and freeze what we couldn't eat right away.   This of course had not occurred to me, because layer cakes are birthday cakes, and are no ordinary, everyday affair.  I certainly couldn't make this thing only for us, and with no occasion to celebrate!  But I have now been persuaded otherwise, and it's a delightful thing, a very, very delightful and lovely thing, to eat a piece of Lemon Layer Cake, just because you can.
Lemon Layer Cake — makes three 6″ layers or two 9″ layers; based on a recipe from www.cooksillustrated.com
4  large eggs, room temperature
½ cup whole milk, room temperature
zest of two lemons
1 ¾ cups cake flour
1 ½ cups sugar
2 teaspoons baking powder
¾ teaspoon salt
16 tablespoons unsalted butter, cut into 16 pieces and softened
Preheat the oven to 350 degrees.  Combine the dry ingredients in a large bowl of a standing mixer (or use a hand-held mixer).  Add the chunks of softened butter one by one, and cut into the dry ingredients until butter is not quite fully incorporated.  Combine the eggs, milk, and lemon zest and add half of this mixture to the dry ingredients, beating until fluffy, about a minute.  Scrape the bowl and then add the remaining wet ingredients.  Beat until fully incorporated, then give the batter a good stir by hand.  Pour into prepared pans (greased and lined with parchment) and bake 12-18 minutes, until a toothpick inserted comes out dry.  Let cool in pans for 10 minutes and then transfer cakes out of pans and onto racks to cool.
Lemon Curd — makes enough to fill this cake, with a bit leftover to add to the frosting; from www.Fine Cooking.com
1/2 cup unsalted butter
3/4 cup granulated sugar
1/2 cup fresh lemon juice
3 Tbs. lightly packed finely grated lemon zest
Pinch salt
6 large egg yolks
Melt the butter in a heavy medium saucepan over medium heat. Remove the pan from the heat and whisk in the sugar, lemon juice, zest, and salt. Whisk in the yolks until smooth. Return the pan to medium-low heat and cook, whisking constantly, until the mixture thickens, 5 to 6 minutes. To check if the curd is thick enough, dip a wooden spoon into it and draw a your finger across the the back of the spoon; your finger should leave a path. Don't let the mixture boil. Immediately force the curd through a fine sieve into a bowl, using a rubber spatula. Let cool at room temperature, whisking occasionally. Refrigerate, covered, until ready to use.
Easy Lemon Buttercream Frosting
12 tablespoons unsalted butter, at room temperature
1 box (about 4 cups) powdered sugar
Zest from one lemon
a few tablespoons of milk
Combine the butter, powdered sugar and lemon zest and beat until fluffy, adding the milk as needed to make a spreadable, but not too thin, frosting.  I had a few tablespoons of lemon curd leftover when I was finishing the cakes and I stirred it into this frosting for a deeper lemon flavor and a lovely pale yellow color.
For finishing the cake:  Top the first cake layer with a thick layer (1/4″) of lemon curd, then repeat.  Place the third layer on top and cover the whole thing with a thin layer of frosting. (This will be the "crumb coat" — do not skip this step, because it makes the final layer of frosting a breeze to complete.)  Place the cake in the freezer for 15 minutes or so, to set the crumb coat, and then spread an even layer of frosting over the top and sides.  Decorate with sprinkles.